Company/Software Overview
Avast Antivirus Software was founded in 1988 in the Czech Republic. It recently become a publicly-traded company due to its success in the antivirus world. Avast is solely dedicated to providing comprehensive security and antivirus software.
Key Features
Avast antivirus provides a good number of features that home and business owners alike can utilize for virus protection. As with most antivirus software, Avast offers different packages, and each package offers different features. Take a look at some of the most important features offered in all packages of Avast Antivirus, aside from the standard features:
Secure Web Browser: Avast includes a built-in web browser that's more secure and private than other web browsers. It doesn't track you while you browse the web, and it automatically converts to banking mode when you are on financial screens to protect your extra-sensitive information.
Password Manager: Avast's password manager is included even in the free version of the antivirus software, which is surprising. This is usually an extra feature that you have to pay more to access.
Like all password managers, this one stores all of your passwords in a single, encrypted vault. It can also suggest passwords for new logins that you create and populates passwords automatically for your login credentials stored in the manager.
Wi-Fi Inspector: At its core, Avast's Wi-Fi Inspector does just what its name suggests: it examines the Wi-Fi networks you use to ensure they are safe. It also works for wired networks. However, it also inspects all the devices connected to your networks to make sure they aren't trying to bypass your security or giving external threats opportunities to get in.
Game Mode: If you game on your computer, you know how common it is to be slowed down by the various applications running in the background. Avast's Game Mode runs automatically whenever you open a video game. It adjusts your system settings for optimal performance and disables any unnecessary apps from running and slowing you down.
Test Results/Protection
Avast antivirus comes highly reviewed and recommended from other websites, especially as a free antivirus software package. But does it live up to the reviews and expecations? We looked at two different independent antivirus software testers, AV Test and AV Comparatives, to find out.
AV Test's last round of testing occurred in August 2018, and Avast scored a perfect 100% against 0-day malware attacks across 275 different samples. In July 2018, Avast protected systems from 99.2% of 0-day malware attacks.
Unfortunately, Avast antivirus struggled when it came to system impact during AV Test's testing. When opening websites and applications, the computers tested slowed down significantly.
In the eight tests that AV Comparatives has run, Avast has scored an average of 99.4% of all malware attacks blocked. It scored a perfect 100% on the June 2018 test.
Packages/Pricing Overview
Avast antivirus offers a variety of different antivirus products depending on your system's operating system and your specific security needs.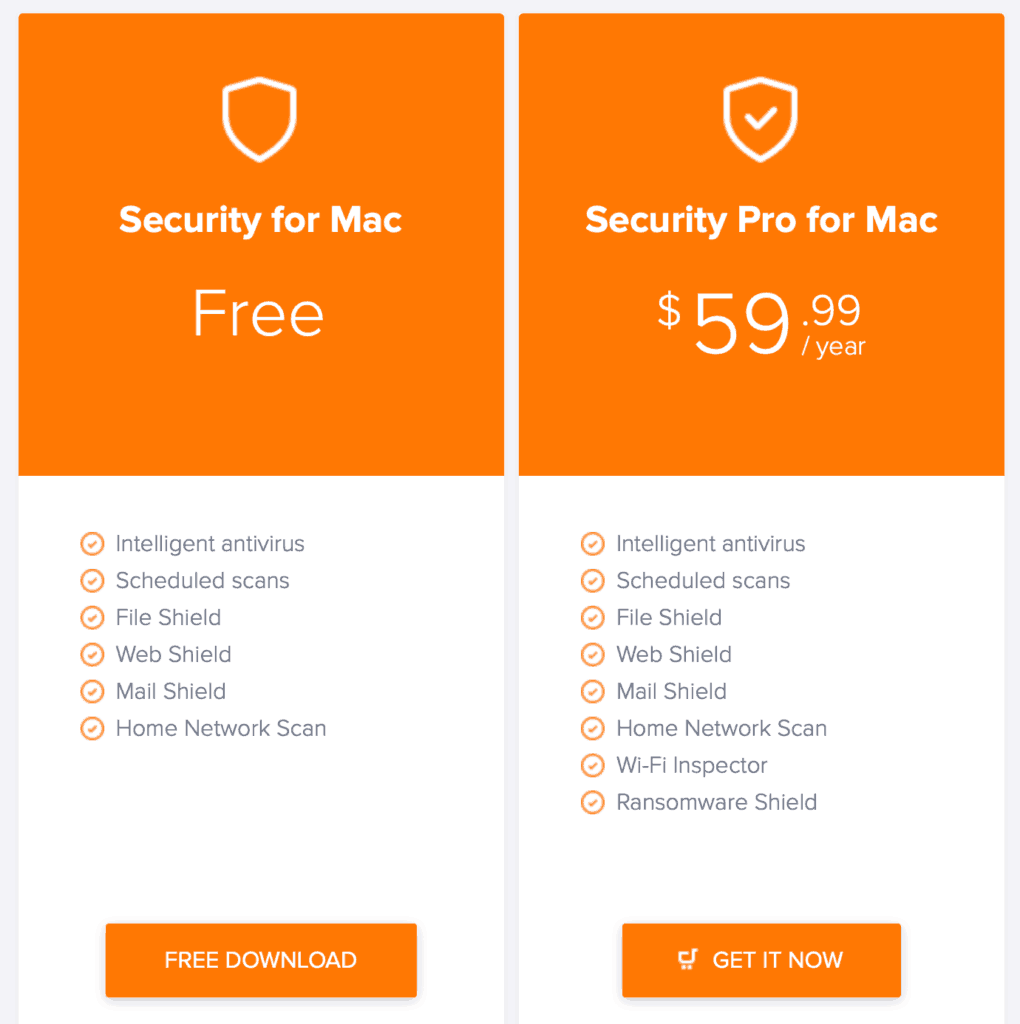 For Mac, you only have two choices: Security for Mac—the free version—and Security Pro for Mac, which costs $59.99. Both the free and paid versions include basic antivirus protection, but the Security Pro version adds in the Wi-Fi Inspector and Ransomware protection features. Note that the Mac versions of Avast antivirus do not include Game Mode or the password manager.
For Windows, you have four different options available. The first is the free version, which offers all the antivirus basics, along with a password manager and game mode.
The next available package is called Internet Security, and it costs $59.99 per year. It gives you all the features from the free version, along with ransomware protection, anti-spam features and a passive mode, which allows you to use more than one antivirus program at a time.
The next package you can buy is called Premier, and it costs $69.99 per year. This version of Avast antivirus software includes everything from the free and Internet Security versions, along with protection from webcam hackers, a data shredder and an automatic software updater.
The most expensive Avast product you can purchase is called Ultimate, and it costs $119.99 per year. It includes everything from less expensive plans, but includes premium features like a secure VPN service, a premium PC optimization tool and a premium version of the password manager.
We recommend purchasing the Internet Security package. It provides the most important features that most users will need to fully protect their computers.
Setup
Avast is simple when it comes to installation and setup. If you want to use the free version of the software, you'll be presented with a free download button that matches your system's OS on the home page of the website. Click that button to start the download, and then follow the standard installation wizard for your computer.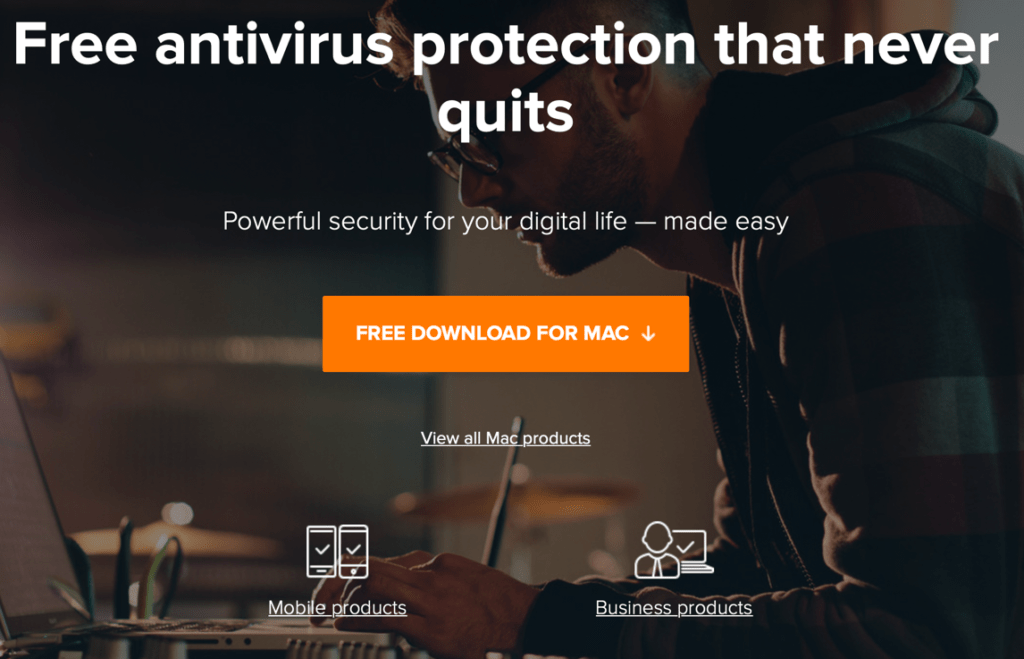 Avast's interface is clean and simple, which makes for easier navigation and a smaller learning curve. The home screen gives you a quick look at your overall protection by telling you if you're protected or not.
To run a scan, simply click the scan button or navigate to the scan tab to choose from a variety of different kinds of scans to run.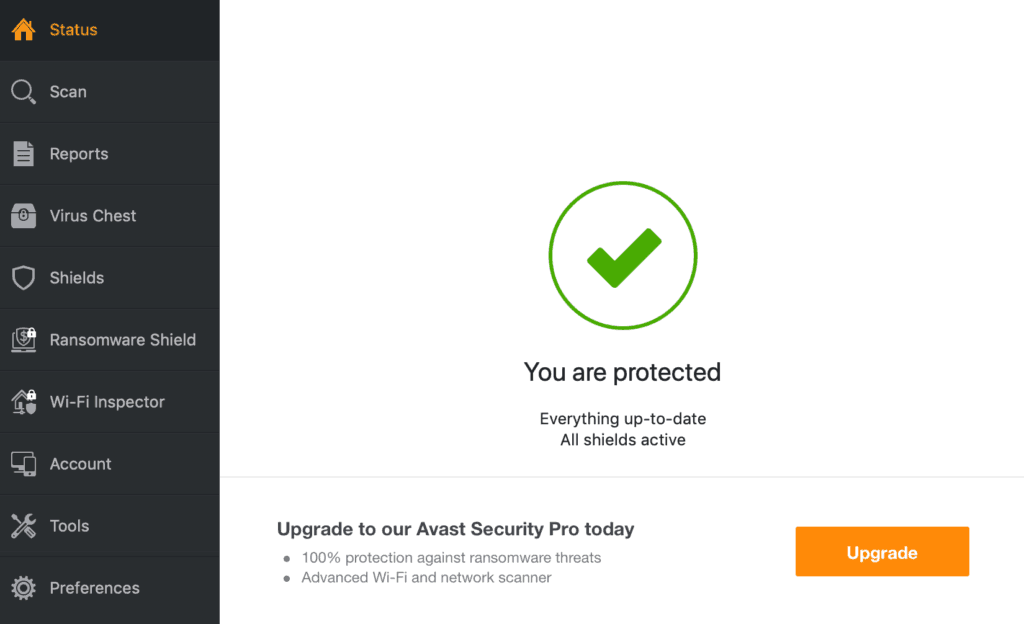 Be aware that if you're using a free version of Avast's antivirus program, you'll likely constantly be bombarded with upgrade and buy now buttons no matter where you are in the interface. This is similar to AVG Antivirus as well.
Support and Money Back Guarantee
Avast, unfortunately, does not provide any live support unless you pay for it. If you don't want to pay for a support plan, you can utilize the company's online resources, which include a fairly comprehensive knowledge base and community forum.
We find the community forums to be more helpful than the knowledge base since you're interacting with actual end users.
If you're not pleased with your purchase of a paid product, Avast provides the industry standard, 30-day money back guarantee.
Bottom Line – Our Verdict on Avast Antivirus
All in all, Avast antivirus offers a great free antivirus software option that covers all the basics, plus more. You also have the option of purchasing a more comprehensive solution, if needed though it is a bit expensive.
Do you love or hate Avast Antivirus? Let us know down below by leaving a review!
Avast Free
Average rating:
0 reviews