Company/Software Overview
AVG Antivirus stands for Anti-Virus Guard and was founded in 1991. It was recently purchased by Avast in 2016 and has continued to maintain its own product line despite Avast's own antivirus product line.
Key Features
AVG Antivirus software provides a healthy amount of features for anyone looking to protect their home devices from malicious software and viruses. While features will differ between price points, AVG offers a few key features to know about:
File shredder: AVG allows you to "shred" any of the files or folders on your computer. This is a handy feature that you don't find on every antivirus software without shelling out extra money. It helps you permanently delete the file or folder entirely from your system, without being able to recover it later.
Web TuneUp Plugin: Browsing the web can sometimes feel like playing roulette; you never know if the sites you visit are going to be good or bad. AVG's web TuneUp plugin offers a solution to that problem. After installing it in your web browser, it checks the websites you're visiting and tells you if they're not safe.
This plugin also allows you to send a Do Not Track message to websites so they can't follow your web browsing habits and send you targeted advertisements.
Configuration Options: The ability to customizing the way your antivirus software looks and works can be hit and miss. Some companies excel in giving you more control, while others take away your ability to customize anything in the interface.
AVG gives you plenty of configuration options so that you can tailor your experience exactly to your specific needs and preferences.
Test Results/Protection
Features are only as good as their real-world performance. To test AVG's antivirus protection in the real-world, we turned to AV Comparatives and AV Test. These independent testers put all the major antivirus software through rigorous testing to ensure they protect your computer well.
In 2018, AV Comparatives has tested AVG antivirus a total of 8 times so far. During these tests, the software was able to identify and block around 99.3% of the viruses thrown at it. This percentage is a little lower than other software but is still very good.
In AV Test's 2018 tests, AVG also scored highly. Their tests showed a 100% success rate at blocking malware and viruses. AVG also scored well when it came to performance, coming in below the industry average for the amount it slowed down computers during scans. Unfortunately, AVG did mislabel a few legitimate software as potential threats during some of the scans.
Packages/Pricing Overview
AVG offers a wide variety of different products for your computer, but it only offers three different products dedicated to protecting your computer and information. Let's take a look at the differences between these packages.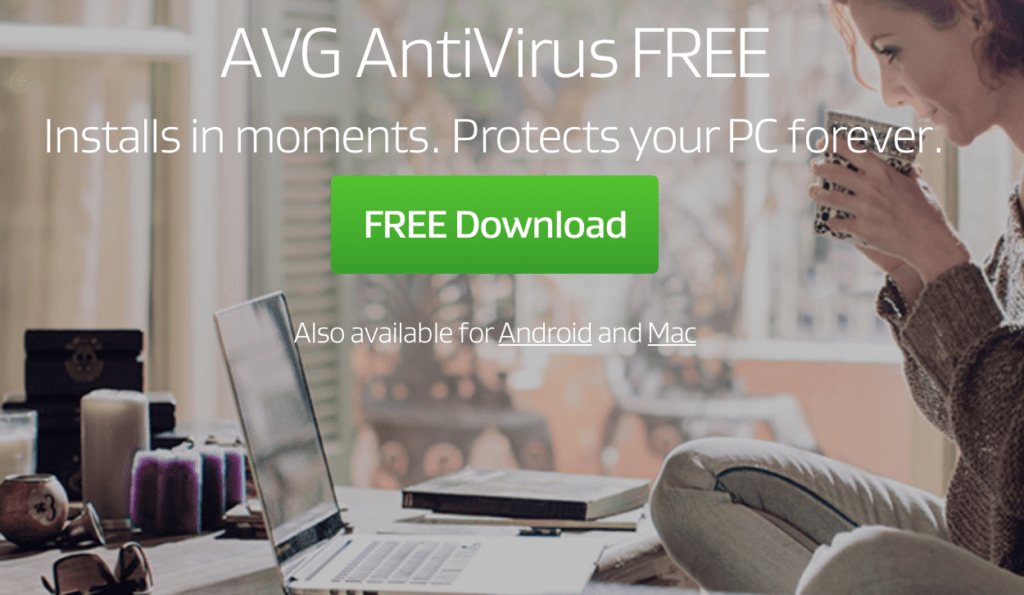 AVG Antivirus Free is the most popular option that AVG offers. With solid antivirus features and a non-existent price tag, it's easy to see why it's so popular. However, when it comes to its feature set, Antivirus Free is lacking. It definitely offers good malware protection but doesn't do much else than that.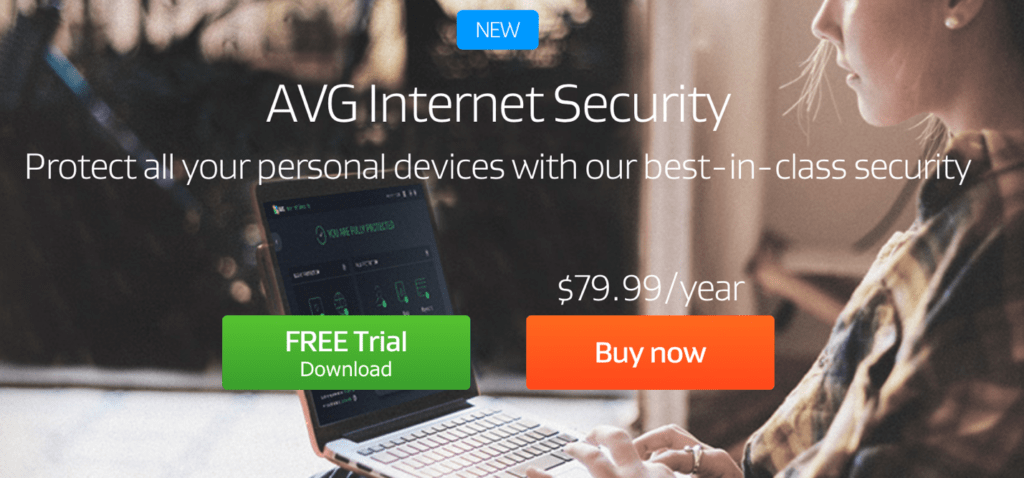 The next package is called AVG Internet Security. This plan costs $79.99 per year and covers every device in your household, which is outstanding. Many other companies limit the number of devices you can cover on a single subscription. Apart from the standard antivirus features that come with the free version, AVG Internet Security also includes web and email protection, payment protection, and webcam protection.
The most expensive and comprehensive package is called AVG Ultimate. This in-depth product costs $99.99 per year and includes all the offerings from the previous plans. It also gives you TuneUp, which is AVG's tuning suite that helps your computer perform better.
We recommend AVG AntiVirus Free for customers on a budget, but the added features and functionality of AVG Internet Security are hard to ignore. If you really want the best protection for your devices, we recommend sticking to AVG Internet Security.
Setup
While it excels in actual performance, AVG struggles a bit when it comes to its user interface. It looks clean and sleek but can be troublesome to navigate, especially if you're looking to do anything other than a basic scan.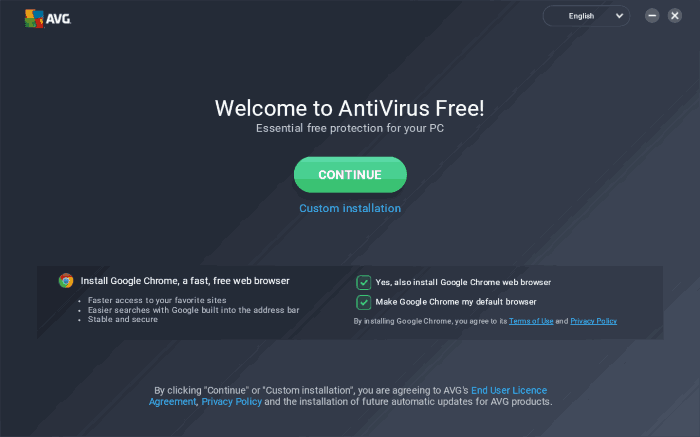 Installing the software on your devices is as simple as downloading the app if you're on mobile, or the installer if you're on your computer. Once the installer has downloaded, click to open it and follow the instructions the wizard provides.
After the installation has been completed, you'll see AVG's dark user interface. You can access everything from this homepage but it may take you several clicks to get into some of the deeper scans available.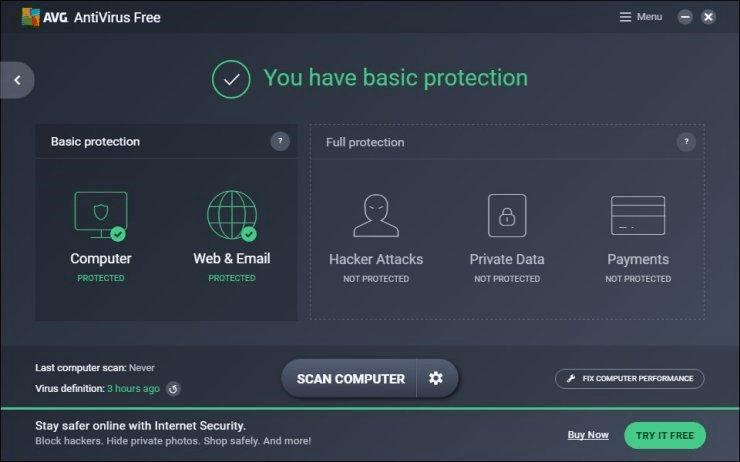 To start a basic scan, simply click the big Scan Computer button at the bottom of the interface. You can watch the scan run as it goes through all your files or leave it to do its work. Once it's done, you can expect to receive a report on what the antivirus found or didn't find.
Support and Money Back Guarantee
If you run into any problems with your AVG products, you can reach out to their dedicated support teams through a variety of different means.
You can contact the support teams through live chat and phone lines 24/7, but the company only offers a free consultation. If you want them to fix any problems or remove any viruses, you'll need to pay for a premium support package.
You can also turn to the user community for help with your problems. AVG has an active user base and the online forums can be very helpful.
Bottom Line – Our Verdict on AVG Antivirus
Even though it struggles with its user interface and doesn't offer free comprehensive support, AVG provides a solid antivirus software that will work for customers on a budget.
What's your experience with AVG's products? Leave a review below and let us know!
AVG Antivirus
Average rating:
0 reviews