Company/Software Overview
Heimdal Security is a fairly new name in the antivirus game. Founded in 2011, they started by offering products that were designed specifically as add-ons to your existing antivirus software. The company now offers its own antivirus software.
Key Features
Heimdal Security's software gives you lots of features that are aimed at protecting your home computers from external threats. The features offered can differ between different packages, but there are some key features to take into account:
Sandbox & Backdoor Inspection: Heimdal security uses sandbox inspection to prevent malicious files from inhabiting your computer. Sandbox inspection is a network process that isolates potentially dangerous files on a different device before inspecting them.
If the inspection finds dangerous files, it quarantines them and learns how to recognize them in the future.
Traffic-based Malware Protection: This security software actively monitors both incoming and outgoing traffic on your network to ensure nothing malicious is taking place. Anything that looks or seems suspicious will be flagged immediately and brought to your attention.
As a part of this feature, all malicious and dangerous sites are blocked. It also blocks websites that redirect you without your knowledge.
Automatic Software Updates: Heimdal's software will automatically check all the software on your computer for any required patches or updates. Hackers often exploit out of date software, and many people forget to update. If your software or applications need to be updated, Heimdal will do it for you.
Test Results/Protection
How does Heimdal stack up against real threats? Does its traffic monitoring functionality truly keep your information safe and private online? We looked at several different test results from third-party testers to determine if this antivirus software keeps your computer protected.
In these tests, we found that Heimdal was able to block the vast majority of malicious and/or dangerous websites. This prevents the data from those websites from ever reaching your computer.
Unfortunately, Heimdal can get a little overzealous when it comes to website blocking. During testing, there were several times that it incorrectly blocked websites that are completely safe. Fortunately, you can whitelist those websites.
Heimdal also performed well against malware and other viruses during independent testing. It was able to block most of the viruses that came its way.
Packages/Pricing Overview
Heimdal offers three different products in its Thor line of security software. These three differ in purpose and feature availability, so we've listed out the important information you need to know below.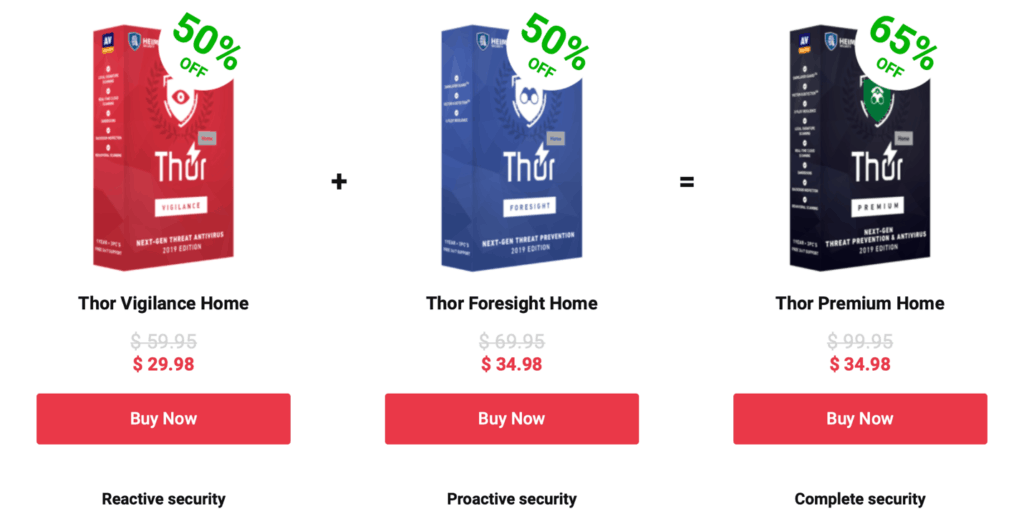 The least expensive product is Thor Vigilance Home. This is labeled as Heimdal's reactive security software, and mostly lines up with traditional antivirus software offerings. This license gives you the ability to protect up to three separate computers from malware. However, it does not give you the traffic monitoring functionality discussed above. If you're looking for something simple and basic, Thor Vigilance Home is the product for you.
The mid-tier product is Thor Foresight Home, which is labeled as Heimdal's proactive security software. This product is unique in the fact that it doesn't provide any antivirus functionality. It is meant to be used as an add-on to your existing antivirus software. Thor Foresight Home focuses on the network monitoring so you stay 100% protected online.
The top-tier product is Thor Premium Home, which is labeled as Heimdal's complete security software. This version of the software gives you all the functionality and features of both Thor Vigilance Home and Thor Foresight Home for a comprehensive security solution.
We recommend you purchase Thor Premium Home if you want a truly comprehensive security solution in one piece of software. However, if you already have an antivirus software that you like, Thor Foresight Home makes a great add-on that gives you an extra layer of security.
Setup
Heimdal security really excels when it comes to its installation, configuration and overall usability. It offers a clean interface with simple navigation.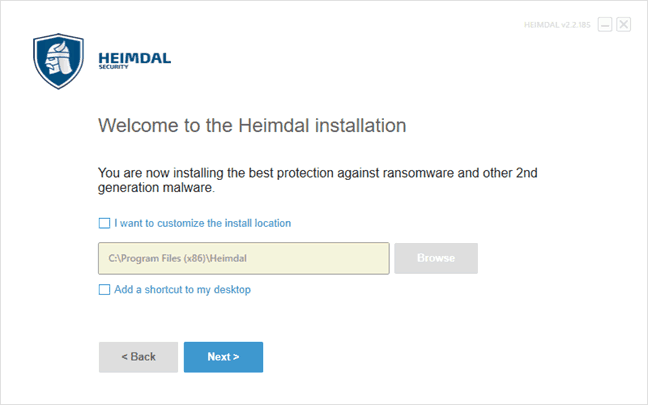 Installing Heimdal security on your computer is simple enough. It follows the same standard Windows installation as most applications. First, you'll need to download the installer, and then you'll follow the steps on the installation wizard until the software is successfully installed.
Make sure to hold on to your license key, as the software will ask you to enter it before you can use it.
After installation, you'll be taken to an overview tab, which acts as the home page for the software. From here, you'll get a brief look at the overall status of your system, along with a summary of previous scans and recently-blocked items.
To start a scan, all you need to do is click the orange Quick Scan button. If you want to do more comprehensive scans in a specific area, click the blue menu icon in the top left corner—made up of four horizontal, stacked lines.
Support and Money Back Guarantee
Unfortunately, Heimdal is most lacking when it comes to its support processes. Unlike other antivirus and security software companies, Heimdal doesn't offer any phone or live chat support. Instead, you'll need to either email the support team or submit a ticket. However, Heimdal does commit to providing an answer within 24 hours, which lessens the blow a little.
Heimdal also has an online FAQs section and more in-depth product guide section on their support website, but even these don't cover the more complicated problems you might run into.
You can also check out the Known Issues and Announcements sections on their support website to learn more about current problems and how to fix them.
If you're not pleased with your purchase of one of Heimdal's Thor products, you can also request a refund within 30 days of your purchase.
Bottom Line – Our Verdict on Heimdal Security
Heimdal struggles when it comes to live support, but it offers a decent product that can either give you the protection you need or enhance the protection you already have in place.
Have you used any of Heimdal's Thor products? If so, we'd love to hear from you! Leave a review below.
Heimdal Antivirus
Average rating:
0 reviews