Company/Software Overview
One of the most well-known companies in the computer protection industry, McAfee Antivirus was founded in 1987. The company offers an entire suite of protection products for both consumers and businesses, but one of its most popular products is the Total Protection antivirus software.
Key Features
In the latest iteration of McAfee's Total Protection software, you have the widest range of features available to date. Total Protection key features include:
Malware and Virus Protection: As you might expect from an antivirus software, McAfee Total Protection keeps your devices safe from the typical run of viruses that usually infect computers. The software runs in quietly in the background to detect and quarantines threats in real-time without interrupting your workflow.
Ransom Guard: This feature is new to this 2018's iteration of Total Protection. Ransom Guard targets and eliminates ransomware, which is a particular type of virus that threatens to harm your devices unless you pay a ransom.
McAfee Total Protection tracks possible ransomware threats, and as soon as they even show a hint of encrypting your data, the software creates protected copies of your data for safekeeping.
Password Manager: Total Protection includes a subscription to True Key, a password manager that helps you keep your passwords in a single, protected spot. It gives you up to 10,000 password entries for each of the five licenses included with the software.
McAfee Shredder: Another unique feature included in McAfee's antivirus software is the Shredder. It acts much like a physical paper shredder by destroying your digital files and data, preventing external sources from recovering your data. 
Test Results/Protection
These features look great on paper, but how does McAfee Total Protection stack up against real-world threats?
We referenced AV Comparatives' test results to learn more about McAfee's performance against viruses and other malware. Since the beginning of 2018, McAfee antivirus has scored an average of protecting against 99.7% of malicious items. The software even scored several 100% results in April and June.
We also referenced AV Test's test results to learn more about how McAfee antivirus affected system performance. For the most part, McAfee Total Protection performed better than the industry standards in a variety of use cases, including browsing the web and launching standard applications.
McAfee faltered during the installation of applications, where the process experienced significant slowing down due to the software's scans.
Packages/Pricing Overview
McAfee antivirus offers three different tiers for its Total Protection product. The main difference lies in how many devices you want to cover, but there are some additional features offered only in the more expensive plans.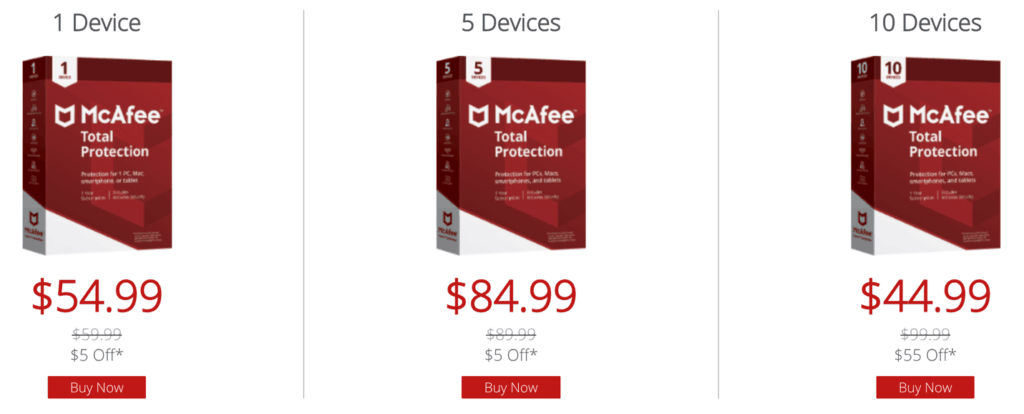 McAfee regularly offers discounts the first year of your subscription, which differ depending on the time of year. The base prices for Total Protection are $59.99 per year for a 1-device subscription, $89.99 for a 5-device subscription and $99.99 per year for a 10-device subscription.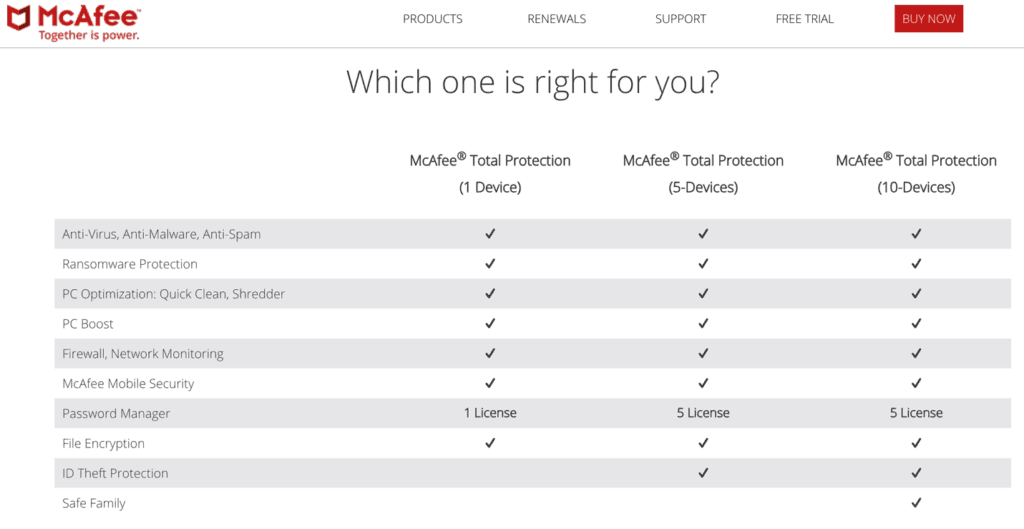 The 1-device subscription includes all the standard features you should come to expect from your home antivirus software, including virus protection, firewalls and networking monitoring. It also includes McAfee's new ransomware protection, password manager and file encryption.
The 5-device subscription provides everything from the previous tier, along with ID theft protection.
The 10-device subscription includes everything from the previous tiers and adds on the Safe Family feature, which gives you more control over your family's technology habits through screen time limits, content restrictions and GPS tracking.
We recommend purchasing the 5-device subscription to get the most out of your money, especially if you have multiple devices at home that you want to be protected.
Setup
Even though McAfee's interface can get a little overcrowded and confusing at times, setting up the software and running your first scan is relatively simple.
To install McAfee Total Protection on your device, simply download the installer from your online McAfee account and follow the setup wizard. Be sure to write down your serial number from your online account because you'll need it to finish the installation.
After you've finished the download and installation, you're ready to run your first scan. While McAfee Total Protection runs constantly in the background and performs scheduled scans automatically, you still have the choice of running a full scan whenever you want.
To start your first scan, simply click the Run a Scan option from your Home tab within the Total Protection interface. In the new window that opens, select the Run a Full Scan hyperlink and the software will run. You can watch as it counts the number of files it has scanned, and once the scan is complete, you'll get a brief report on the scan's findings.
Support and Money Back Guarantee
If you ever encounter a problem operating the software or your subscription, you can always contact McAfee's live support channels. With 24/7 live chat and phone support available to paying customers, you can rest assured knowing you will get an answer when you need it the most.
McAfee antivirus also has a robust online community full of real-world users where you can ask questions and get answers from people actually using the software on a daily basis.
If you're displeased with your purchase of Total Protection, you can always request a full refund within 30 days of the purchase. McAfee also offers a unique Virus Protection Pledge. If your device ever gets infected with a virus that Total Protection didn't catch, a McAfee expert will remove it. If the expert can't remove it, you'll get a full refund, even if you've passed the initial 30-day mark.
Bottom Line – Our Verdict on McAfee Antivirus
In previous years, McAfee's antivirus software was considered one of the worst in the industry. This isn't true any longer. While it still doesn't go toe-to-toe with the best antivirus software, it's a solid competitor with a large suite of features and a high level of performance.
Let us know what you think of McAfee Antivirus Total Protection! Leave a review below so we can hear your thoughts.
McAfee Antivirus
Average rating:
0 reviews