Company/Software Overview
Norton Antivirus by Symantec is one of the biggest names in the security and antivirus game. It's been through a variety of ups and downs in its history, but today it offers a reliable antivirus lineup.
Key Features
Norton's antivirus software has everything you need to protect your home computers and mobile devices from malware and other external threats. It offers these features across a swath of different tiers and plans. Let's take a look at the key features Norton offers in its packages:
Ransomware Protection: Ransomware is a fairly new threat that completely takes over your computer and requests payment before your files or sensitive information is released if it's ever released at all.
Many antivirus companies only offer ransomware protection as a premium feature on their higher-priced products, but Norton offers it on every one of its antivirus packages.
 Virus Protection Promise: Offered in every package except Basic, Norton's Virus Protection Pledge is the company's 100% guarantee to you that their software will keep your computer virus free or you get your money back.
If a virus were to ever bypass the antivirus protection you have in place, Norton will assign a dedicated virus removal expert to your case. If the representative can't remove the virus, then you'll get a full refund.
Smart Firewall: Norton uses their own version of a firewall to give your computer greater protection against external threats. It monitors communications between your computer and the Internet. It also warns you of improper connection attempts, unsecure ports and any network intrusions.
This sounds like a normal firewall, but the differences lies in the direction of monitoring. Norton's Smart Firewall monitors both incoming and outgoing communications, where standard firewalls typically only monitor inbound communication to your computer.
Test Results/Protection
As Norton antivirus is one of the biggest names in computer protection, it's also one of the most tested. So, how does it fare against real-world threats like malware, phishing and ransomware? We looked to AV Test and AV Comparatives to learn more about Norton's actual performance.
In AV Comparatives' tests, Norton antivirus has scored almost consistently across the board with a 99.5% protection rate against real-world threats. A few months it has scored higher. Most recently, in August, Norton scored a perfect 100% score.
In AV Test's reports, Norton was rated at 100% protection in the last two months against 0-day malware attacks and general virus threats. AV Test also looks at system impact during scans and common activities like opening applications and webpages. Test results show that Norton is well below expected system impact when compared to other companies.
Packages/Pricing Overview
Norton antivirus offers four different antivirus plans, where you pay yearly for a subscription. The features and number of devices that are covered vary depending on the package you decide to purchase.
Norton's basic plan is called Norton Security Standard. It has a list price of $69.99 per year and includes protection for one device only. This plan gives you Norton's base-level antivirus protection, along with ransomware protection, and it protects your information online, too.
The next plan is called Norton Security Deluxe. It costs $89.99 per year and includes all the features of the previous plan. It covers up to five of your devices and includes Norton's smart firewall and an easy-to-use web portal for device and plan management.
Norton's next package is called Norton Security Premium. It costs $109.99 per year and includes protection for up to 10 separate devices, which is this plan's key selling point. It may seem expensive up front, but with coverage for 10 devices, you're getting a deal. This plan also includes 25 GB of online backup storage and family management tools to keep your kids safe.
The most expensive plan is Norton Security Deluxe with LifeLock Standard. It costs $149.98 per year and covers up to five different devices. It offers the same features as the Standard plan, but includes Norton's award-winning identity theft protection suite, LifeLock. This product monitors your personal identification information online and your credit score to ensure no one is using your social security number for their own benefits.
We recommend the Norton Security Deluxe package to get the most for your money, unless you need to cover more than five devices.
Setup
Getting started with Norton's antivirus software is as easy as downloading the installer and following the wizard as it guides you through the installation process.
After you've installed the software on your computer, you're ready to start protecting your devices. Norton's interface has always been clean and simple with a bright interface that's easy to use.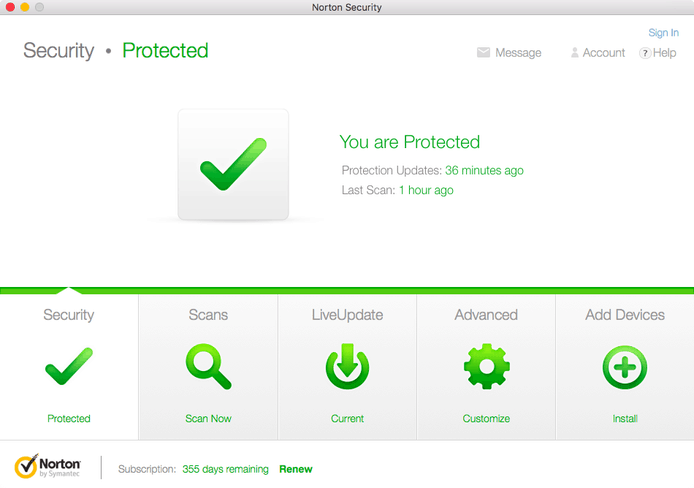 On the home dashboard, you'll get a quick overview of your computer's status. If you see the big green checkmark, you know you're protected, and everything is running fine.
If you want to perform any scans outside of your scheduled scans, simply click the Scans button and select what kind of scan you'd like to perform. You also have some freedom to customize your scans.
Support and Money Back Guarantee
Norton antivirus is part of a large company and has an excellent support team. If you ever run into an issue while using the software, you have several different support options. Norton maintains a comprehensive online knowledge base along with a robust community. If you don't want to contact support directly, you can search the knowledge base or reach out to the community of real-world users.
If you do require live support, you can use the online chat or call 24/7. You can also contact Norton support via Facebook and Twitter.
If you aren't satisfied with your product, Norton offers a 60-day money back guarantee, which is double what most other companies provide.
Bottom Line – Our Verdict on Norton Antivirus
Norton Security is one of the most successful antivirus software companies in the game right now, and it's easy to see why. While they don't offer a huge amount of bonus features, they get core antivirus software right.
Have you used Norton Security to protect your devices? Let us know what you think of the software by leaving a review below!
Norton Antivirus
Average rating:
0 reviews