Company/Software Overview
Panda antivirus is one of the largest security software providers in the world. It was founded in 1990 in Spain, and once held the title for the 4th largest company in 2016. It started in the antivirus market space and has expanded to include cybersecurity products.
Key Features
Panda Security offers a wide variety of features across all its different product offerings. As you consider which antivirus software to buy, you'll definitely want to look at what features are provided as a part of your purchase. Take a look at some of the key features of Panda's antivirus software:
USB Protection: Plugging a USB drive into your computer can be a risky move in certain situations, especially if you don't know what's on the drive. As such, it's important for you to protect yourself against unknown malware contained on such devices. Panda gives you that added level of security through its USB protection feature. The antivirus software scans each USB device plugged into your computer to ensure it's safe.
 Game and Multimedia Mode: Running games and other types of multimedia can seriously slow down your computer, especially if you have extra applications running unnecessarily in the background. Panda's multimedia/game mode helps you game, watch movies and stream content without any unexpected interruptions.
Panda Rescue Kit: Sometimes, viruses and other types of malware can cause your computer to shut down completely and not boot up again. Panda includes a free PC recovery kit that can help you restore your system and clean any infected files that may remain.
Test Results/Protection
How does Panda antivirus perform when faced with real-world threats, including viruses, 0-day malware and more? Does the software slow down your system when in use? To find out, we referenced tests from both AV Comparatives and AV Test, which are leading independent testers in the antivirus space. Take a look at the results of their tests to see how Panda stacks up.
In AV Comparatives' testing, Panda antivirus performs fairly well overall. On average, Panda antivirus gains high scores versus real-world threats. It isn't uncommon to see 100% protection during these tests. However, in May 2018, Panda took a hit and only stopped 94.6% of malware, which causes a dip in its overall scoring.
AV Test's results indicate a much-better performance, especially against 0-day attacks. Panda scored perfect 100% scores the past couple months against both 0-day malware attacks and general viruses and threats.
Packages/Pricing Overview
Panda offers a wide variety of different plans and packages for its antivirus software. This gives you more flexibility in how you protect your home devices, and also allows you to stick to a budget if necessary.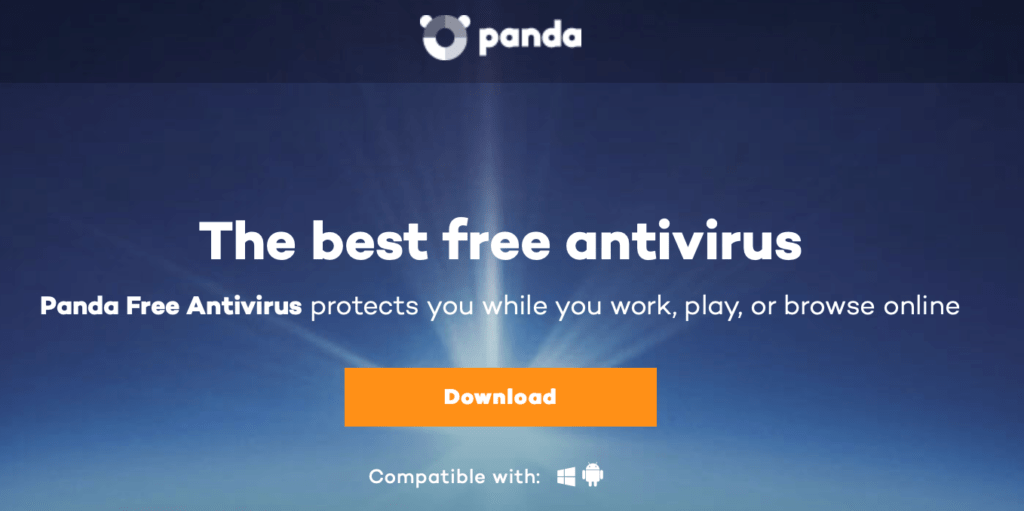 To start, Panda offers a free, basic antivirus software that covers the baseline needs of home computer security. This version of the software provides only the basic features, including antivirus protection, USB protection, the Panda Rescue Kit and a multimedia/gaming mode. The free version is only available for Windows platforms.
The Windows line of antivirus software is called Panda Dome and comes in four different packages: Essential, Advanced, Complete and Premium.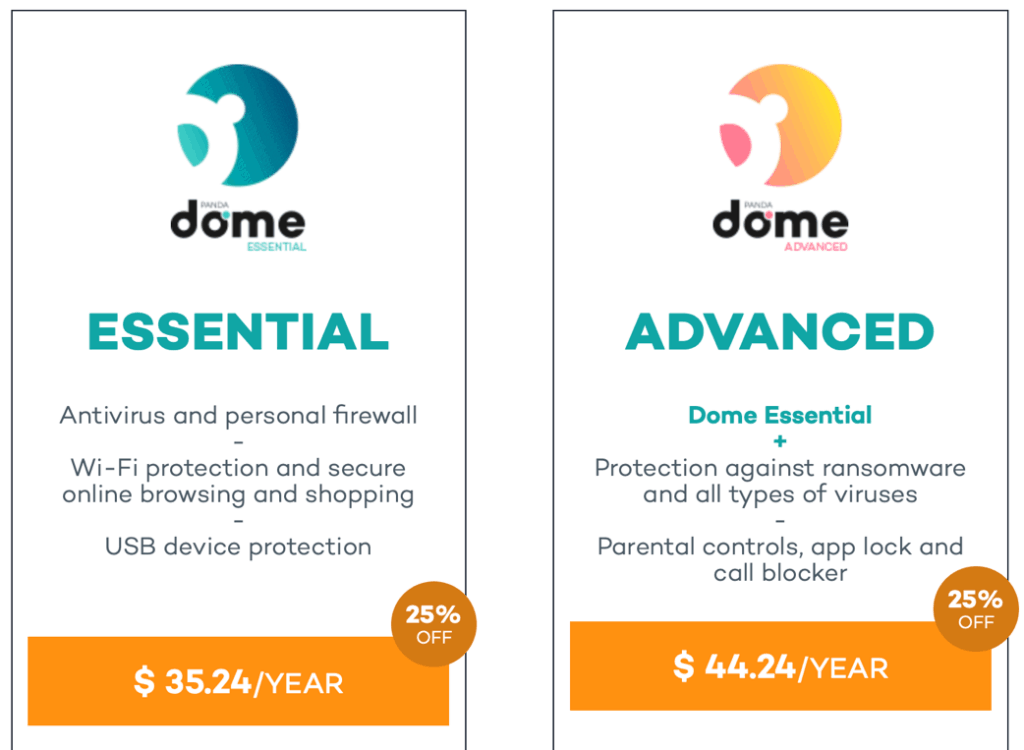 Dome Essential costs $35.24 per year and includes all of the basic antivirus functionality, along with Wi-Fi protection and secure online financial transactions. Dome Advanced costs $44.24 per year. It includes everything from Dome Essential, plus ransomware protection and added parental controls.
Dome Complete costs $71.24 per year and includes everything from previous packages, along with data protection, a password manager and remote device location and control. Dome Premium is the most expensive option, costing $116.42 per year. It includes everything from previous packages, along with 24/7 unlimited premium tech support and a premium VPN service.
We recommend purchasing Dome Advanced for the best value for your money. This package gives you all the features you need to protect your computers from external threats.
Setup
Installing and setting up your Panda antivirus product is fairly easy and follows the standard installation procedures that you see what other kinds of software. After making your purchase, you'll be provided a download link or button. Click the link to start a download, and then follow the installation wizard specific to your system.
Once you've installed the software, you'll have access to Panda's interface, where you can see a quick status update and perform any scans. Note that if you are using the free version, you'll likely see upgrade messages often.
To run a scan, simply click the green Scan button and watch as the software scans your system for anything malicious.
Support and Money Back Guarantee
Panda provides both free and premium support options. The free options include an online knowledge base and community forums. You can also contact the free support team though phone, email and live chat.
Phone support is only available Monday through Friday, 9:00 AM to 6:00 PM. If you pay for premium support, you can contact phone support 24/7.
Unlike other email support teams, Panda's email support doesn't provide an expected timeline, opting instead to indicate that an answer will comes as soon as possible. This is unfortunate, as most problems tend to be more urgent than not. Without a timeline, you don't have the comfort of knowing when you'll get an answer.
Bottom Line – Our Verdict on Panda Antivirus
Panda Security offers a comprehensive, reliable antivirus solution across Windows, Mac and Android devices. With the added benefit of USB protection, this antivirus software keeps up with the best of them.
Do you use Panda's antivirus software on your personal or work devices? If so, we want to hear what you think! Leave a review below.
Panda Antivirus
Average rating:
0 reviews