Company/Software Overview
BullGuard Antivirus is a fairly new name in the antivirus software industry. The company was founded 2002 with a goal of making digital protection simple. Its main focus is providing antivirus software for home and mobile systems.
Key Features
BullGuard antivirus offers a host of different features across a broad range of different products to protect your sensitive information and devices. While some features are only available on higher-priced packages, but there are a few key features you should consider during your research:
Game Booster: If you're a gamer, you know how difficult it can be to fine-tune your device for optimal performance. This is especially true if you're running an antivirus software, which is always making sure you're protected.
BullGuard's Game Booster focuses on preventing pop-ups and other applications from interrupting your gaming sessions. The antivirus software also continues to run quietly in the background to ensure you remain protected.
Parental Controls: In a world of interconnectivity and constant technological change, it's more important than ever to keep a watchful eye on your children as they browse the internet and get more familiar with technology. BullGuard provides comprehensive parental controls on some of its products that help you protect your kids from the darker side of the internet.
This includes blocking websites, filtering search results and setting time limits.
 Vulnerability Scanner: It takes a lot of work to keep a computer 100% safe and updated with the latest security patches. BullGuard's Vulnerability Scanner automatically checks your system to discover and identify weak points. If it finds any issues, it will automatically and immediately notify you so that you can make the proper corrections.
Test Results/Protection
The way an antivirus software performs against real-world tests is a key indicator in how well it will protect your computers and mobile devices from security threats. When we reviewed BullGuard, we looked specifically at AV Test and AV-Comparatives to learn more about how well the company actually protects you.
We first looked at AV-Comparatives testing to understand how well BullGuard antivirus does against real malware threats. Over the past 8 months, BullGuard scored an average of 98.3% of threats prevented. This is quite a bit lower than other antivirus offerings, which are usually around 99.8% prevention.
BullGuard antivirus performed better during AV Test's testing, with almost 100% prevention against 0-day malware attacks and general malware threats. BullGuard also demonstrated minimal system performance impact during scans, downloads and opening applications.
Packages/Pricing Overview
BullGuard offers a few different security and antivirus products. The features you get depend on the package you purchase. Take a look at BullGuard's products below.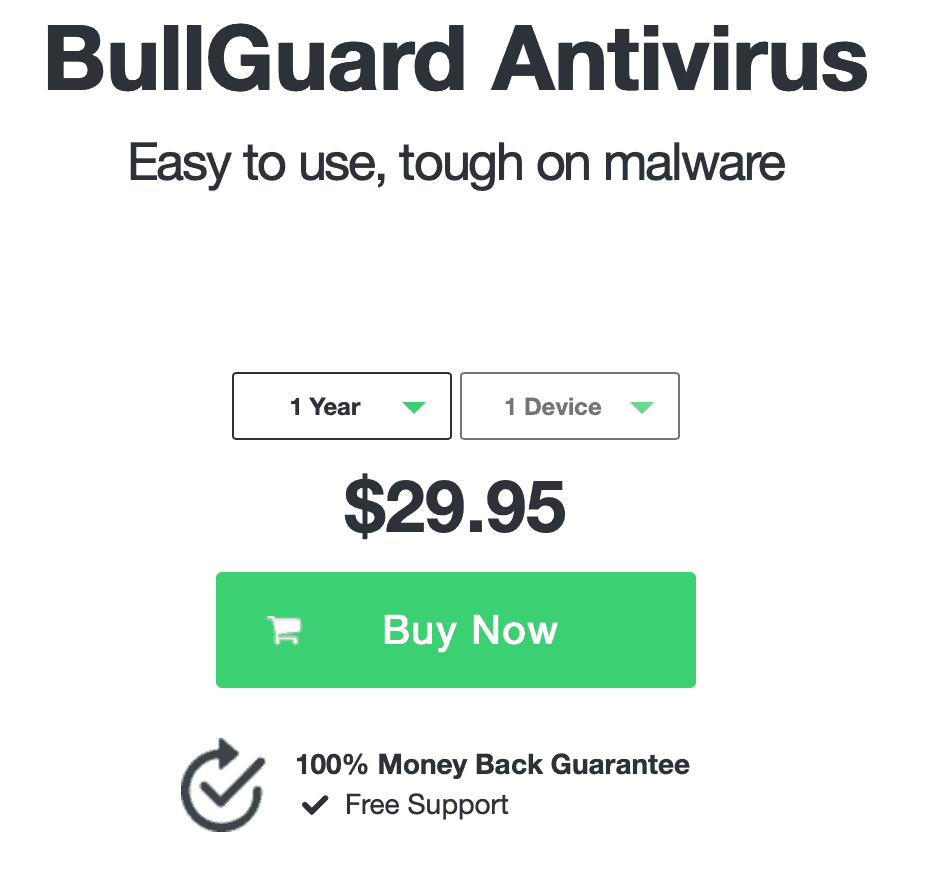 BullGuard Antivirus is the most basic package that BullGuard offers. It costs $29.95 per year for one single device in your home. This product gives you all of the basic antivirus features that you should come to expect from an antivirus software, including BullGuard's "next-gen" anit-malware functionality. It also includes the Game Booster and Vulnerability Scanner.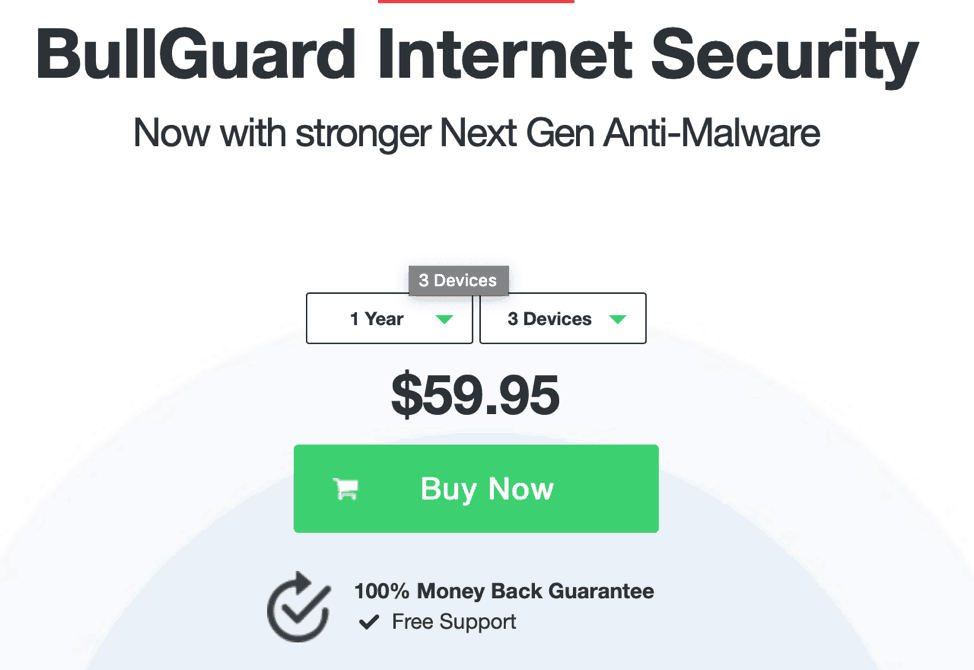 BullGuard Internet Security is the next available product, and it costs $59.95 per year for up to three different devices. The Internet Security product provides all the anti-malware functionality of BullGuard Antivirus, but it also includes extra functionality to protect you as you browse the internet. It also provides parental controls and a comprehensive firewall.
BullGuard Premium Protection is the most expensive product offering from BullGuard, and it costs $99.95 per year for up to 10 different devices. The Premium Protection plan combines Antivirus and Internet Security to create a comprehensive protection solution. It also gives you identity protection, which is incredibly helpful in today's world of identity theft.
We recommend you purchase the BullGuard Internet Security protection. This plan gives you the option of protecting multiple devices both locally and while you browse the internet.
Setup
After you purchase one of BullGuard's products, you'll be provided a download link. Once you click the link, a download will begin. Once that download is complete, simply open the file and follow the steps on the installation wizard.
After the software has been installed on your computer, you'll be taken to the home view of the interface. BullGuard provides an incredibly simple and easy-to-use interface. The interface focuses on giving you a quick look at the status of your protection. If you're protected, you'll see a prominent green checkmark.
Support and Money Back Guarantee
BullGuard provides free support for anyone who uses their product. This support comes in a variety of different forms, including both online and live sources.
If you need live support, you can email the support team and expect to receive an answer within 24 hours. You can also use BullGuard's live chat support 24/7. You can also utilize BullGuard's online community and knowledge base for help.
If you have need help with virus removal, installation and setup or PC tune-ups you'll need to purchase a premium support plan.
As is standard in the industry, BullGuard offers a 30-day money back guarantee in case you aren't satisfied with your purchase.
Bottom Line – Our Verdict on BullGuard Antivirus
While BullGuard's malware defense isn't as good as other antivirus companies in the industry, it is still fairly reliable. Its extra features—Game Booster and Vulnerability Scanner—are excellent and make great additions to the product lineup.
If you've used BullGuard in the past for your antivirus software, let us know what you think of it! Leave a review below.
BullGuard Antivirus
Average rating:
0 reviews