Company/Software Overview
Kaspersky antivirus is a big name in the antivirus software industry, for both good and bad reasons. Founded in Russia in 1997, this company has quickly grown to produce about $700 million in revenue each year. Recently, it underwent some controversy about being headquartered in Russia, but launched a Global Transparency Initiative to allow third-party analysts to vet their antivirus products and clear their name.
Key Features
The features you get with Kaspersky's antivirus software differs widely depending on what package you purchase. However, there are a few key features you get with every package, which include:
On-screen Keyboard: If you're worried about keylogging software installed on your computer without your knowledge, you can use Kaspersky's on-screen keyboard for usernames and passwords instead of your physical keyboard. This prevents keyloggers from capturing the information you enter into sensitive fields.
Vulnerability Scan: As you might expect, Kaspersky anti-virus software scans your computer for potentially malicious software like viruses. It also can perform various vulnerability scans to make sure your other security settings are up to snuff.
With Vulnerability Scan, Kaspersky's software will check for things like poorly-configured settings, missing security patches and auto-run vulnerabilities, which is incredibly helpful if you want that extra layer of protection.
Privacy Cleaner: Your system often tracks your activities through various application records. Kaspersky's Privacy Cleaner can scan and delete this information in places like your browser history, Recent Documents folder and other folders you've opened.
Kaspersky Rescue Disk: If you have malware installed deep in your computer that's preventing your OS from booting properly, you can use Kaspersky's Rescue Disk feature to boot from a different environment and remove the threat. This is especially helpful for non-tech savvy customers, as it walks you through the process.
 Test Results/Protection
It's easy enough to write positive things about the cool features Kaspersky offers as part of its anti-virus products. The real test comes to how well it performs in real-world scenarios. We used AV Test and AV Comparatives' independent testing to learn more about Kaspersky's actual performance.
In AV Comparatives' 2018 tests, Kaspersky has scored a 99.8% when identifying and quarantining potential threats—a near perfect record! Kaspersky scored 100% four times out of the eight tests.
In AV Test's 2018 tests, Kaspersky antivirus scored a perfect 100% in 2018 for malware and virus protection. It also scored below industry averages on slowing down computer performance, which indicates that you'll hardly notice this antivirus software running in the background.
Packages/Pricing Overview
Kaspersky offers several different anti-virus and device protection products. For the purposes of this review, we'll focus on three. More features are offered on the more expensive plans, which also cover more devices.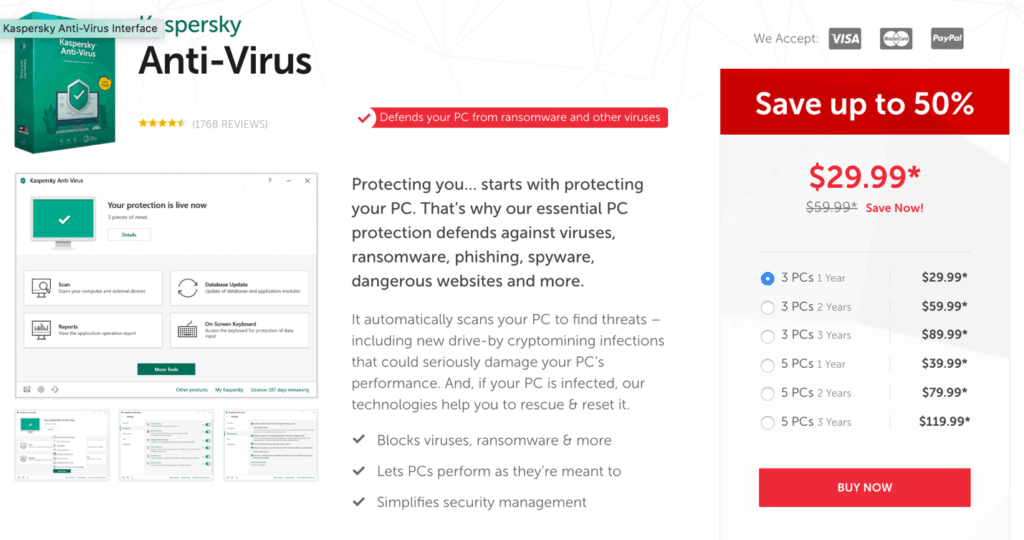 The cheapest option is Kaspersky Antivirus. As the name suggests, this product is purely focused on protecting your devices from viruses and other malware. It includes your standard anti-virus features like scheduled scans, low-impact performance and vulnerability scans. It costs $59.99 per year and covers up to three different computers. Unfortunately, it will only cover PCs or Macs, but not both simultaneously.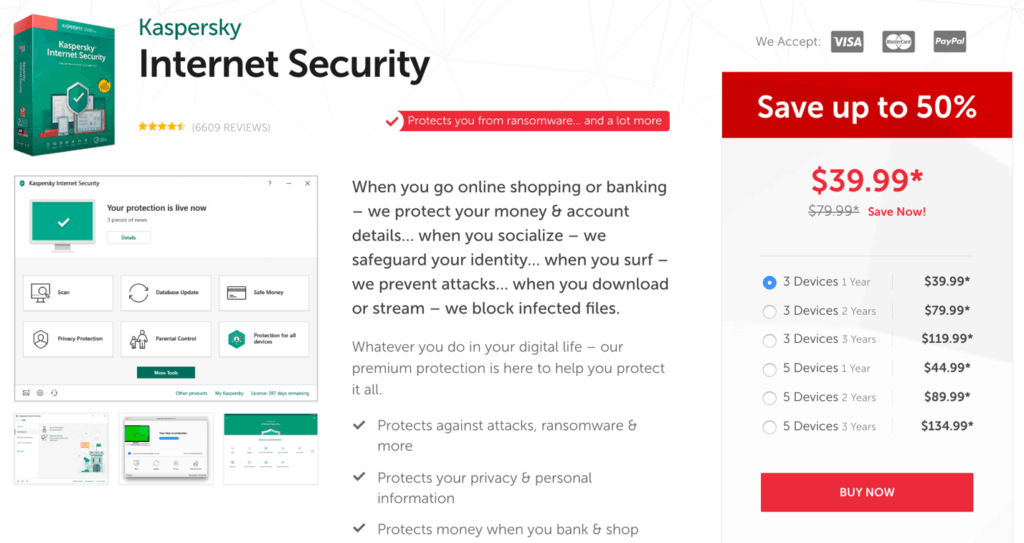 Kaspersky Internet Security is the next available package, and it includes all the Anti-Virus features. The main difference here is the added protection when you are browsing online and support for multiple platforms, including PC, Mac and mobile devices. Internet Security costs $79.99 per year for up to three different devices.
The most expensive anti-virus product from Kaspersky is the Total Security package. This package includes all features from previous iterations and adds more advanced features like parental controls, a password manager and file protection. Total Security costs $99.99 per year for up to five devices.
We recommend purchasing the Internet Security package. Since so much of what we do is online now, it's important to have that extra layer of protection. Plus, you get support for all the different platforms.
Setup
Kaspersky's user interface is simple and clean, making it easy to learn and use. After installation, getting up and running is a breeze.
When you want to install Kaspersky on your computer after purchasing a license, simply navigate to and click the download link provided and click it to initiate the installer download. Once the file has downloaded, open it and follow the instructions from the installation wizard provided.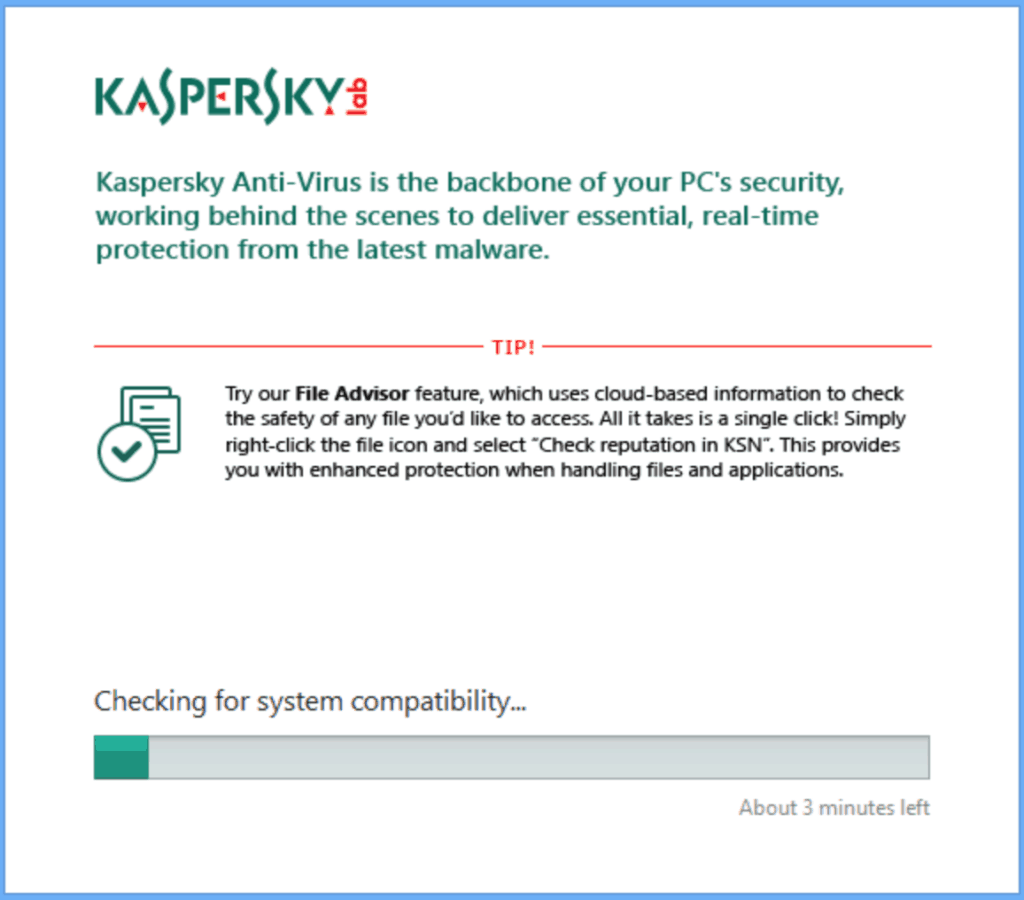 Once your software has finished installing your new Kaspersky antivirus, you can take advantage of all its features. Like many other anti-virus software, Kaspersky runs automatically in the background, following any scans you have scheduled.
You can run a full scan at any time from the main view of the software's dashboard. Just click the Scan option and then select either Full Scan or Quick Scan from the subsequent screen. Once you've made your choice, click the Run Scan button and watch as Kaspersky scans your computer for any potential threats. Once the scan is complete, you'll get your results back, which tell you if the antivirus found anything.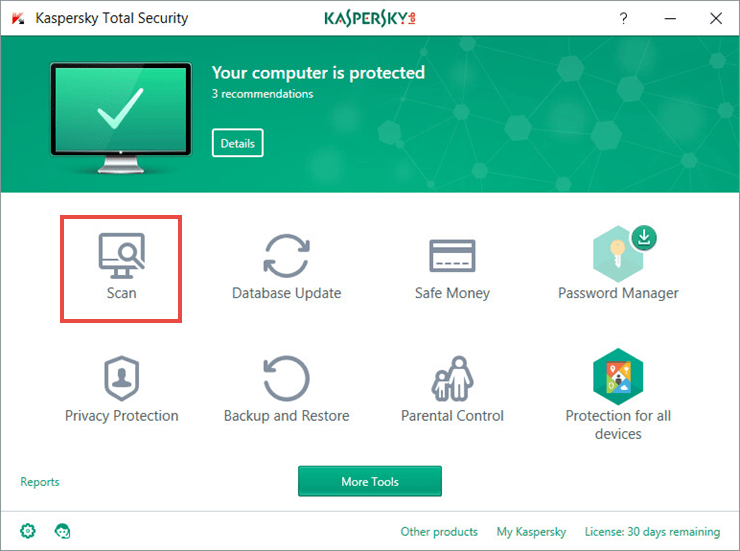 Support and Money Back Guarantee
When you need help with your Kaspersky antivirus program, you can always reach out to their dedicated support channels.
Kaspersky provides a comprehensive online knowledge base, separated by operating system and product, that you can search to find your answer.
If you're in the United States, you can get to live support representatives through phone or online chat seven days a week from 7:00 a.m. to 1:00 a.m. Eastern Time. It's not 24/7 support, but it's close!
Kaspersky also hosts an online forum where you can ask a question for real-world users to answer. With over 400,000 posts, this community is robust and active, and it provides helpful answers to those who can't find them anywhere else.
Bottom Line – Our Verdict on Kaspersky Antivirus
Kaspersky antivirus has gone through some concerning privacy issues, but they have taken the appropriate steps to alleviate the public's concern, and they still produce a stellar antivirus software. With such comprehensive protection, you can rest assured that your devices are safe with Kaspersky.
Do you have any thoughts about Kaspersky and its antivirus products? Let us know by leaving a review below!
Kaspersky Antivirus
Average rating:
1 reviews
Oct 14, 2018
Good product but kind of expensive